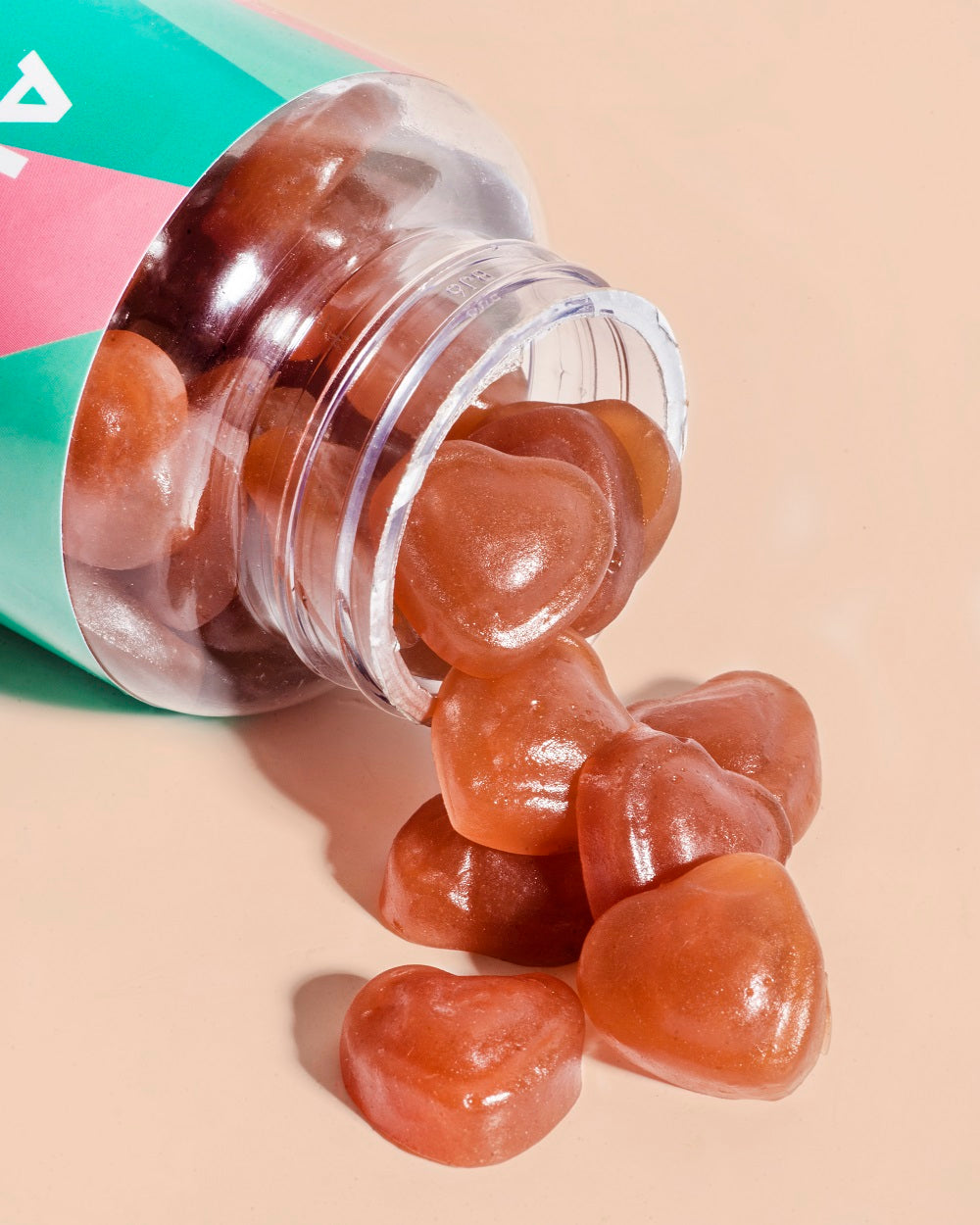 Sign up for auto-delivery
Our delicious vegan, gluten, and cruelty-free gummies provide a therapeutic dose of vitamins and minerals designed to combat the symptoms of PMS. So ditch those placebo supplements, get real relief, and get back to doing the things you love! 
Order Now
ALAFIA | (noun) wellness [wel-nis]
ALAFIA, pronounced AH-LA-FEE-YA, means wellness in Yoruba. Our supplements are designed to up your wellness. And our products don't just help you—10% of net proceeds support community-based mental health programs, so we can all be well. 
Each ALAFIA NATURALS Complete PMS gummy contains a mix of medicinal herbs and therapeutic doses of vitamins and minerals. Every single ingredient in our formula is proven to reduce the symptoms of PMS, including hormonal acne, bloating, debilitating cramps, and overall hormone imbalance.
Join the #AlafiaHealthMafia!
A PMS Gummy for Everyone!
Did you know that you can experience symptoms of PMS even if you don't have a uterus? It's true! People who have had hysterectomies and those who were born without this organ can still suffer each month, due to hormone fluctuations. But ALAFIA can help! Whether you identify as cis, trans, intersex, or nonbinary, our products are designed to help everyone experiencing PMS and PMDD symptoms.  So if you're tired of bearing the unbearable, ALAFIA NATURALS Complete PMS gummies are for you! 
ALAFIA NATURALS' mission is to increase community wellness.
Our products have you covered physically, but we know that mental health is also crucial. To that end, we donate a portion of every purchase to community-based mental health treatment organizations. Let's help the world out, one community at a time!
Why Complete PMS
Gluten Free
and Cruelty Free
What's Inside Complete PMS
Black Cohosh

A woodland herb native to the US, Black Cohosh is treats aches, pains and breast tenderness associated with symptoms of PMS.

Dong Quai

This potent herb is used to treat cramps associated with PMS. Dong Quai is known to have antispasmodic properties.

Chaste Berry

From the fruit of the chaste tree Chaste berry has been used for centuries to address hormonal acne, mood swings and bloating.

Maca Root

A safe, non-toxic adaptogen used to help the body manage stress. Maca also is used help to regulate hormones as well as manage migraines brought on by PMS.

Vitamin B6

Found in many meats, veggies, and some fruits, Vitamin B6 addresses a plethora of PMS symptoms most importantly hormone imbalance.

Calcium

Good ol' calcium, found in milk, cheese and other dairy. Calcium is best known for reducing the pain from cramps.

DIM (Diindolylmethane)

A versatile nutraceutical that is naturally obtained by eating vegetables (think broccoli, brussel sprouts, garden cress, mustard greens, turnips, and kale). DIM's super power is reducing acne and shortening periods.
What Our Customers Say!
I tried these because I tried a few other pills and they didnt actually work, but there supplements are the real deal! I'm join in the Mafia! Typically I suffer from terrible PMS that can linger for a week or two, now my PMS is down to maybe to days and I dont have the bloating and intense cramps! ⭐️⭐️⭐️⭐️⭐️
#Instagrammademebuyit and now my #PMS is not a problem! I cant believe these work and taste as good as they do! Thank you Alafia Naturals!
Believe it! 🙌🙌🙌 I've only been taking these for a little less than a month but my recent cycle was not at all terrible. My mood, bloating and energy levels were all improved. I've already started telling my girlfriends about the product. I'm hoping that I'll have even greater results as I continue using the product.
If you're skeptical, you're missing out on a normal period. I have poly cystic ovary syndrome (PCOS) and as i've been using birth control my periods would be as long as 14 days sometimes. Now my period has been more regular. In less than a month taking them I've had a regular period for the first time in ages! -Tamara A.
Thank you for being inclusive, I no longer have to feel weird about my period. All these brands make periods about gender, thank goodness Alafia Naturals didn't and I've noticed a difference in my bloating. I just started taking these so we'll see if they keep improving. - Avia S.