Sign up for auto-delivery
Our delicious vegan, sugar-, gluten- and cruelty-free creatine gummies provide a true dose of creatine monohydrate designed to increase your muscle growth and decrease your recovery time. So ditch those artificially flavored gummies and get the real deal. Sign up for auto-delivery and get back to crushing your workouts!
Order Now
ALAFIA | (noun) wellness [wel-nis]
ALAFIA, pronounced AH-LA-FEE-YA, means wellness in Yoruba. Our supplements are designed to up your wellness. And our products don't just help you—10% of net proceeds support community-based mental health programs, so we can all be well. 
Every single active ingredient in our formula is proven to provide relief from migraines, headaches, and tension headaches by decreasing how often they occur, how long they last, and how painful they feel. Migraine Magic is NOT a rescue medicine.
Join the #AlafiaHealthMafia!
The Creatine Gummy
Regular price
$44.99 USD
Sale price
$29.99 USD
Unit price
per
Sale
Sold out
View full details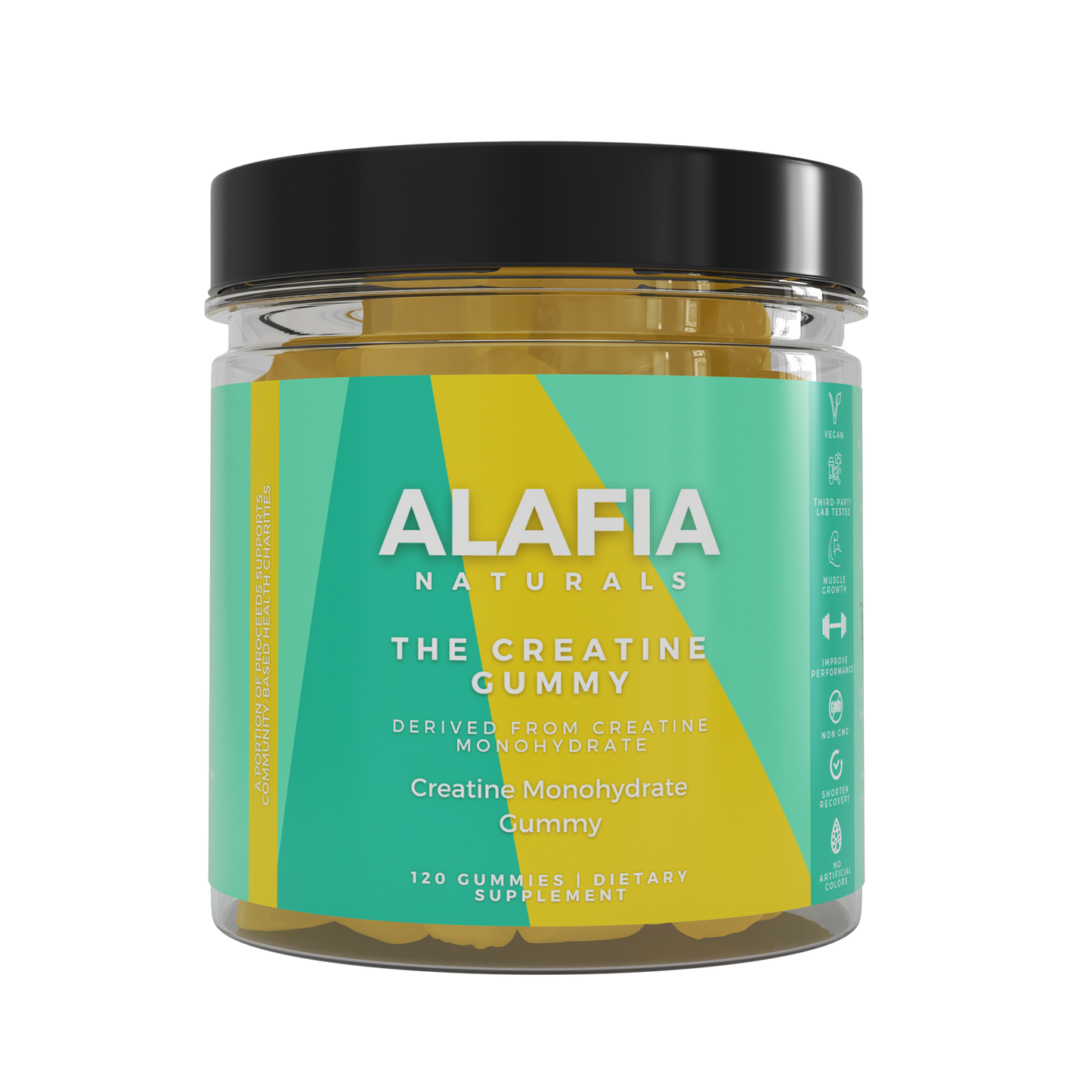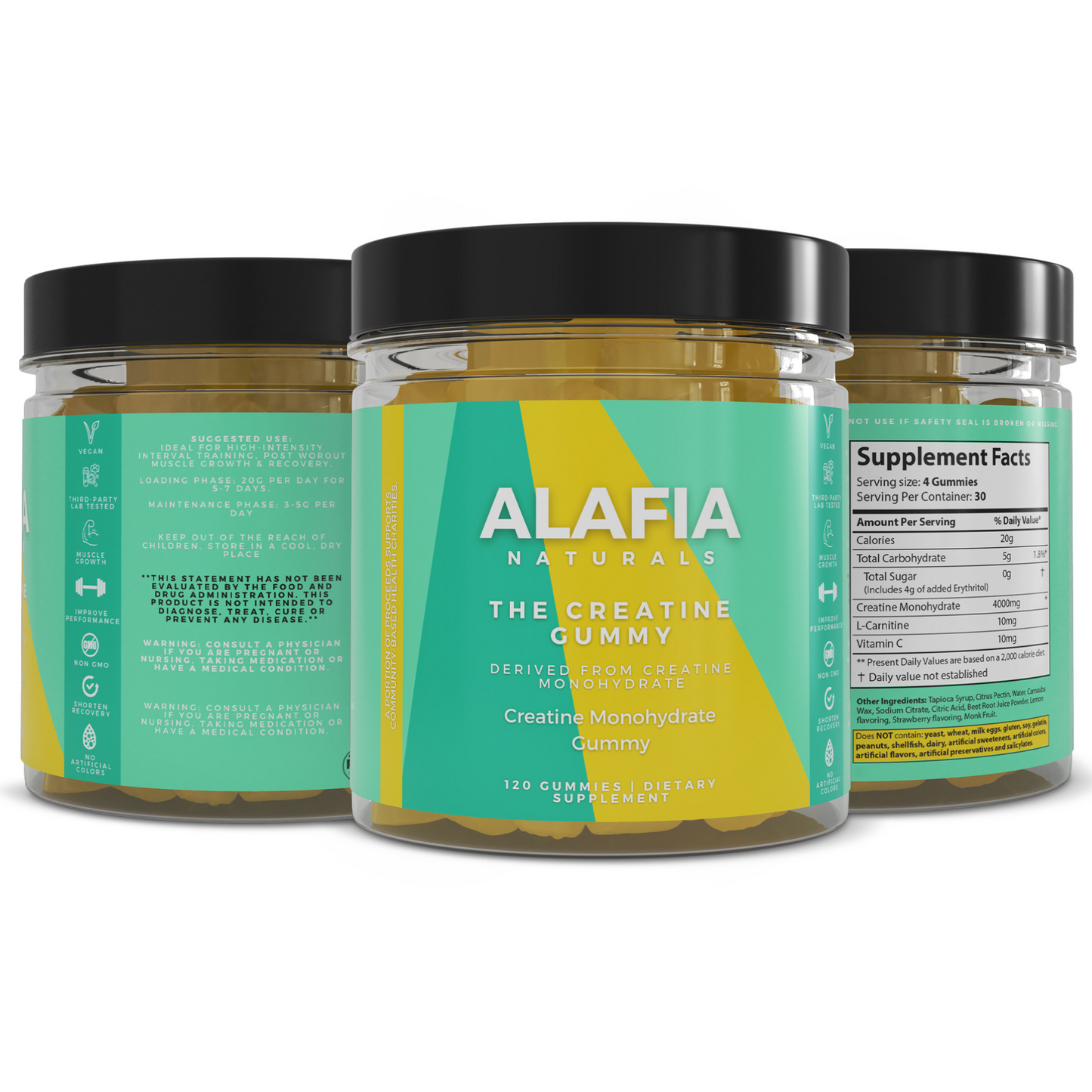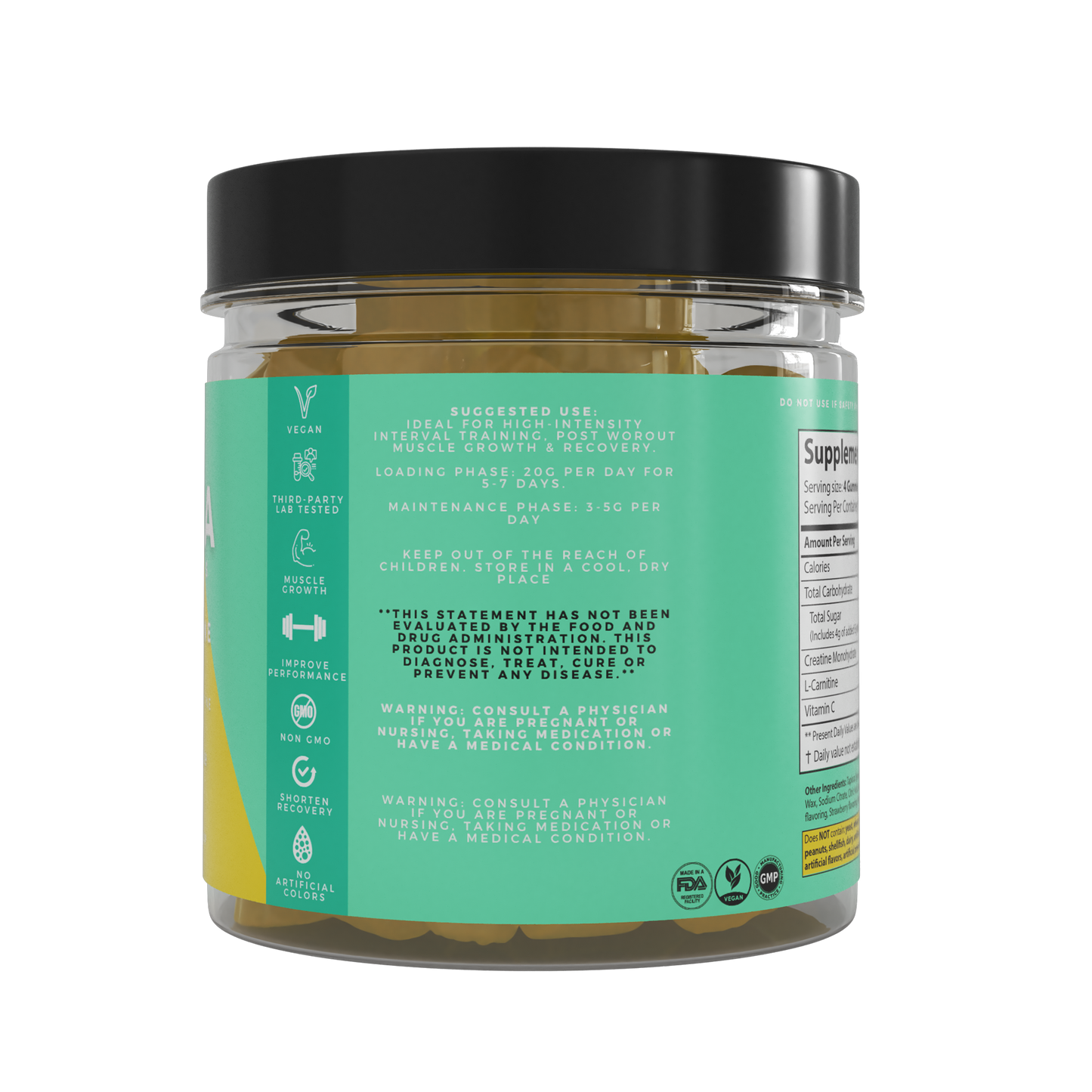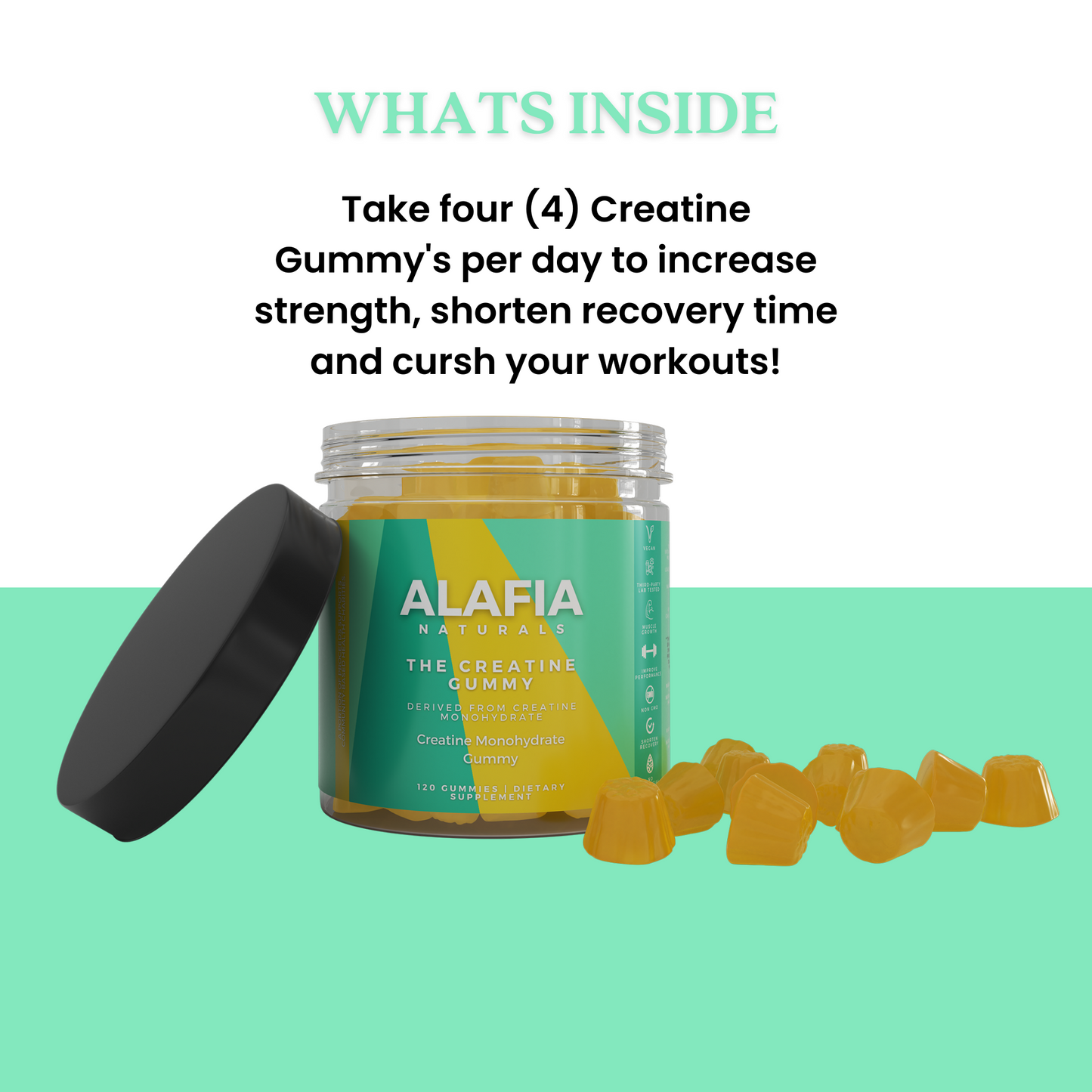 Clean Creatine, No Junk Additives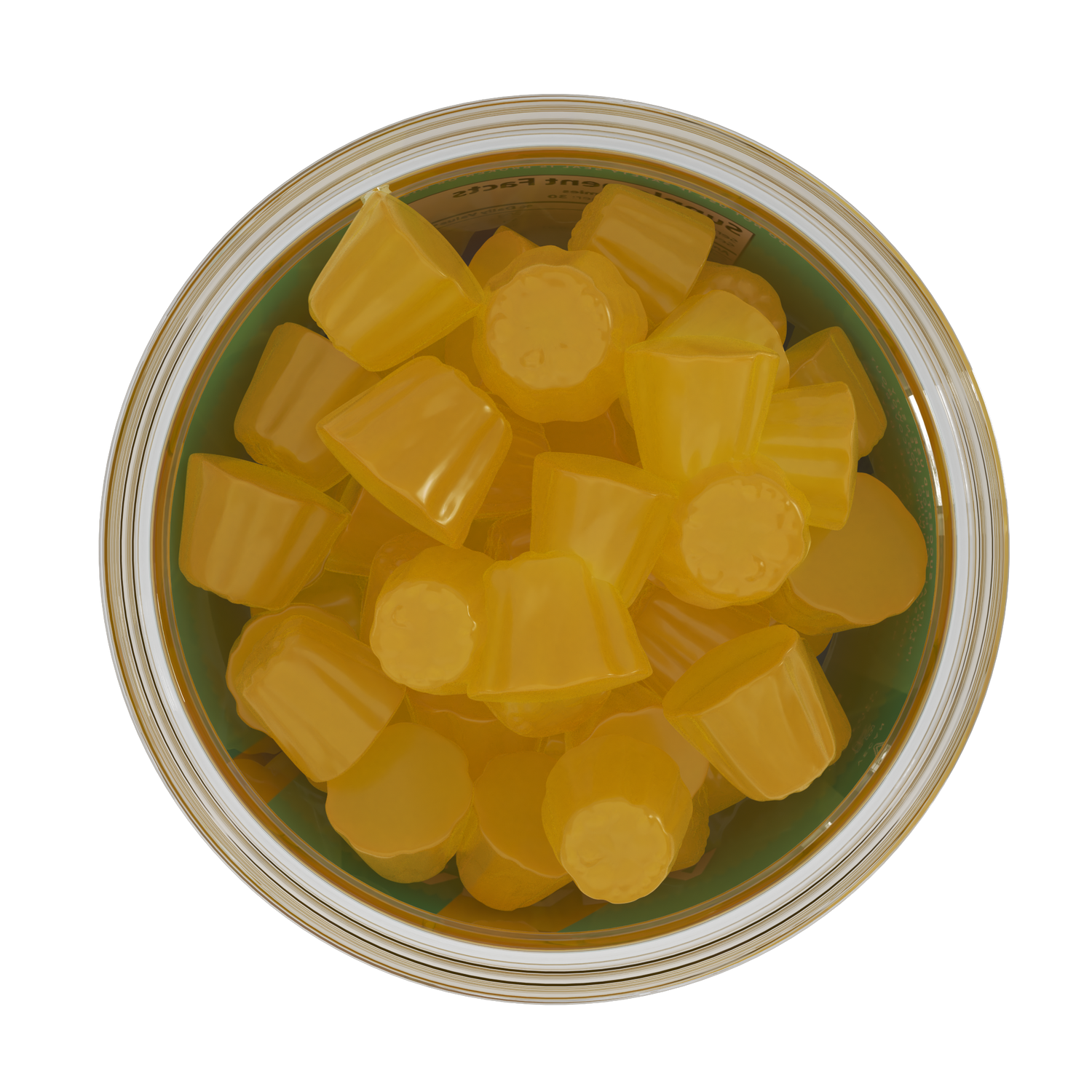 ✔️ Creatine Monohydrate to increase muscle size. Store more glycogen for endurance.
✔️ Vitamin C to increase the absorption of creatine.
✔️ L-Carnitine for for more muscle endurance and for increased muscle pumps and mass.
✔️ No artificial flavors, colors, dyes. No corn syrup, zero sugar, zero junk.
What's Inside The Creatine Gummy
Creatine Monohydrate

Considered one of the safest and most well-researched forms of creatine supplements, Creatine monohydrate is a natural supplement that offers several benefits for athletic performance and overall health. Creatine supplements help increase the phosphocreatine stores in your muscles, which aids in the production of adenosine triphosphate (ATP).

L-Carnitine

We decided to add L-Carnitine to The Creatine Gummy as L-Carnitine provides several benefits when it comes to working out. It plays a crucial role in energy production by transporting fatty acids into the mitochondria of cells, where they can be burned as fuel to generate adenosine triphosphate (ATP), the body's main source of energy. This process allows for the efficient utilization of fat as a source of fuel during exercise and can contribute to weight loss and improved body composition.

Vitamin C

The primary benefit of Vitamin C is helping lower cortisol levels, which are elevated during intense or prolonged workouts. Vitamin C has a secondary benefit, it contributes to tissue healing. It plays a role in collagen formation, which is crucial for connective tissue repair. Taking Vitamin C along with other amino acids (like creatine) aids in tissue healing and recovery.
What Our Customers Say!
I'll definitely buy this again. Tastes good, it's ingrained in my lifestyle. No side effects ⭐️⭐️⭐️⭐️⭐️
I decided to take my workouts to the next level. My muscles weren't visible until I changed my diet and added Creatine. The flavor is amazing and since it's in gummy form I don't have to worry about swallowing large pills! Thank you Alafia Naturals!
I'm so glad I stumbled upon this product. I take creatine daily and always struggled with other forms, but these gummy's taste great, and I actually enjoy them. I reached directly out to the company because I had a few questions and they responded promptly and were very helpful 10 out of 10 would recommend.
I had been searching for creatine gummies forever and finally, this one came along. It is exactly what I was looking for. Definitely the easiest way to consume creatine and takes all the hassle out of it. It also tastes great which is a huge added bonus. It is worth every penny I spent and I will totally be purchasing again. -Danika F.
I was part of the pre-market launch, I wanted to start getting better workouts and feel as though they are helpful for my workouts - Aysa S.
Frequently Asked Questions
1. How many creatine gummies should I take?
We recommend taking four (4) gummies at least half an hour prior to working out. The
recommended daily amount of creatine is between 3 to 5 grams a day
2. Is The Creatine Gummy vegan?
Yes, The Creatine Gummy is 100% vegan and does not contain any animal products or
artificial colors, dyes or ingredients. No high fructose corn syrup, no fructose, no sucralose and
no sugar.
3. Is The Creatine Gummy third-party tested?
Absolutely, The Creatine Gummy is independently third-party tested in Utah

4. How is there no sugar in The Creatine Gummy?
The Creatine Gummy is sweetened with monk fruit, erythritol, lemons and strawberry. We
tested other sugar-free options but ultimately decided that monk fruit was the best option as it is
plant-based.
5. How many bottles of The Creatine Gummy should I order?
The Creatine Gummy users have reported seeing a difference within 1 to 2 weeks when used
daily. We recommend stocking up on a minimum of 2 bottles, however, many of our customers
get 3 bottles to see enhanced benefits over time and to take advantage of the bundled discount
pricing.
6. How long before I start to feel the pump?
The Creatine Gumy users have reported seeing a difference in as soon as a week, however,
this depends on how often you workout. Users who workout on a daily or regular basis see the
difference with in a week.
7. How do I take The Creatine Gummy?
We recommend taking four gummies with or without a glass of water.
8. Why would I take creatine gummies over creatine powder?
Creatine gummies are a more convenient form and way to take creatine. Creatine
gummies are just as effective as other creatine supplements in a pre-measured dose
Try Us Risk Free
Free Shipping

All orders come with free shipping. No minimums purchase required

Easy Returns

Simple return policy for your peace of mind.