What Is The Migraine Gummy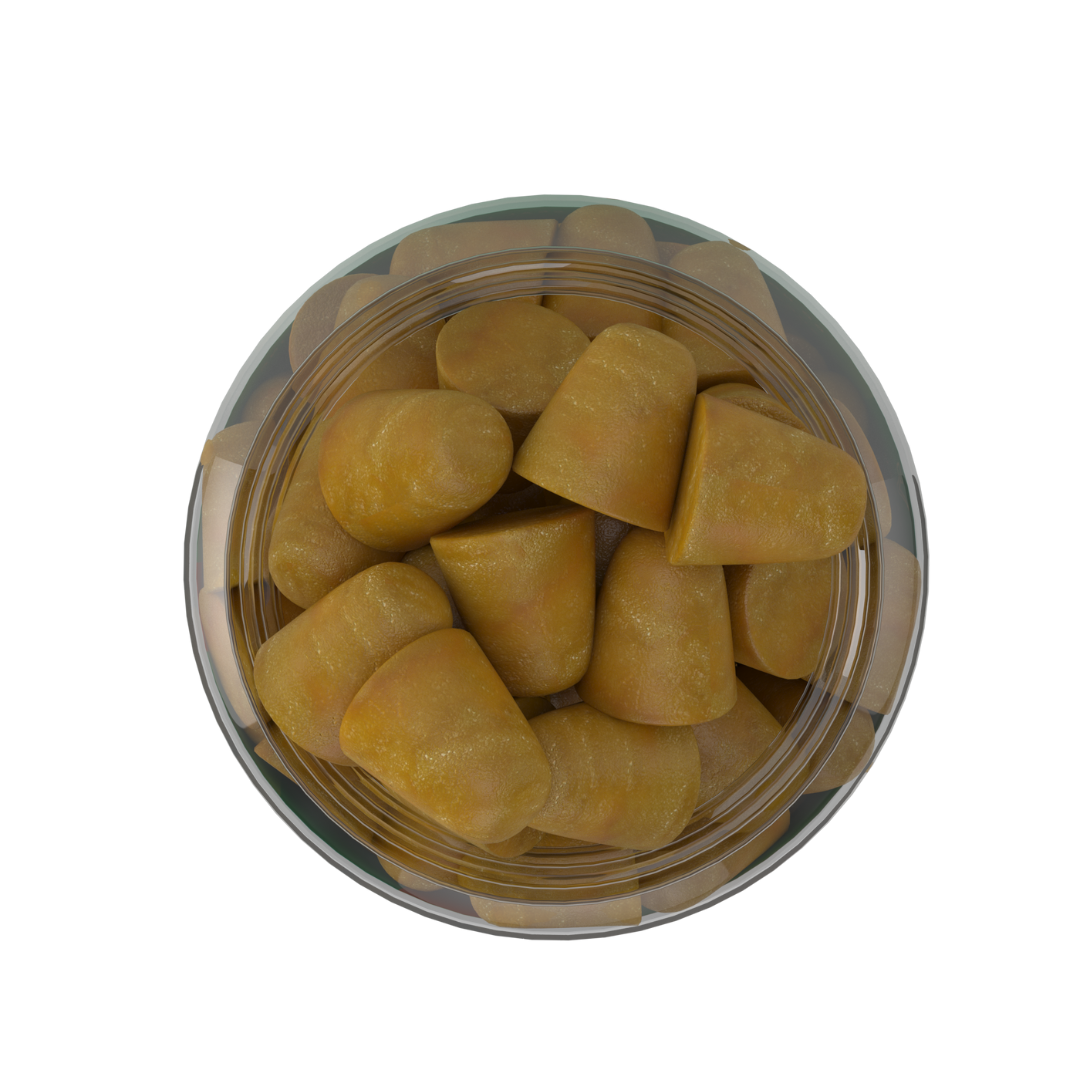 The world's first migraine pain relief and prevention gummies are a revolutionary product that is designed to provide relief to individuals suffering from the debilitating pain from migraines. These third-party tested vegan vitamins play a pivotal role in helping you combat migraines and headaches. The debilitating pain that comes with migraines can be exhausting, and no one should have to endure it. If you are looking for a natural and effective solution to manage your migraine symptoms, The Migraine Gummy maybe the right solution for you!
Sign up for auto-delivery
Our delicious vegan, gluten- and cruelty-free gummies provide a daily therapeutic dose of vitamins and minerals designed to decrease the frequency, duration, and intensity of your migraines. So ditch those placebo supplements and get real relief. Sign up for auto-delivery and get back to doing the things you love!
Order Now
ALAFIA | (noun) wellness [wel-nis]
ALAFIA, pronounced AH-LA-FEE-YA, means wellness in Yoruba. Our supplements are designed to up your wellness. And our products don't just help you—10% of net proceeds support community-based mental health programs, so we can all be well. 
Every single active ingredient in our formula is proven to provide relief from migraines, headaches, and tension headaches by decreasing how often they occur, how long they last, and how painful they feel. Migraine Magic is NOT a rescue medicine.
Join the #AlafiaHealthMafia!
...But How Does The Migraine Gummy Work?
Regular price
$29.99 USD
Sale price
$19.99 USD
Unit price
per
Sale
Sold out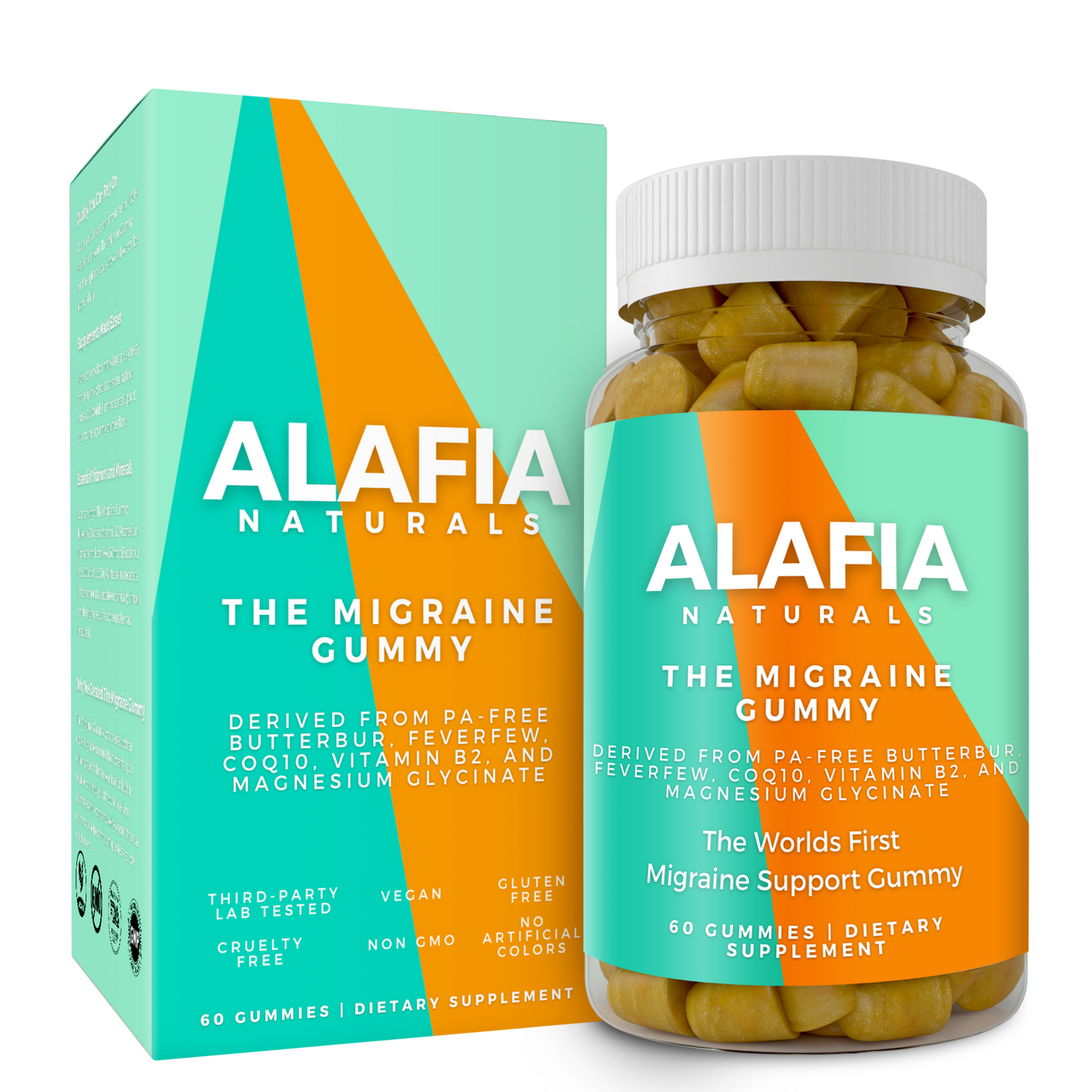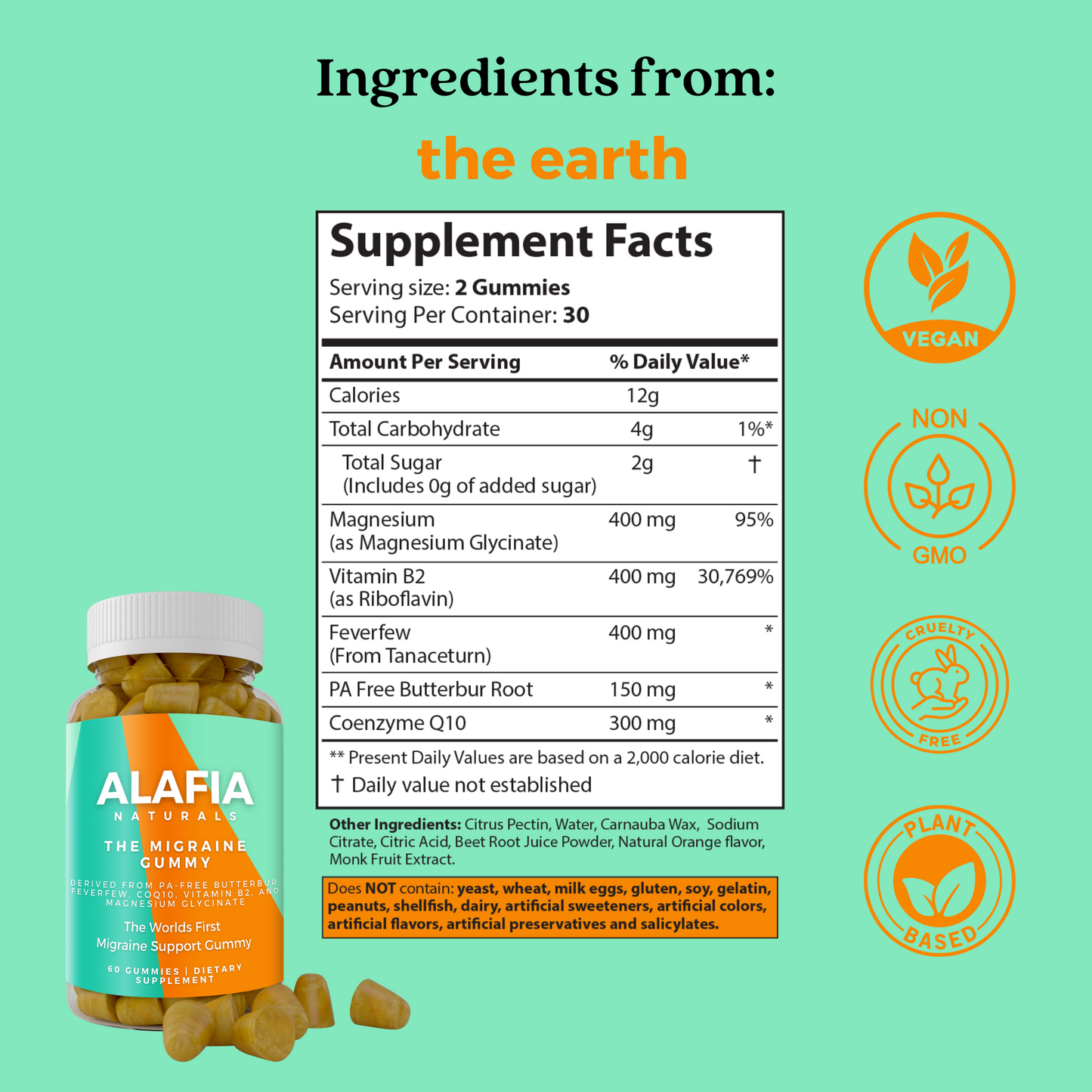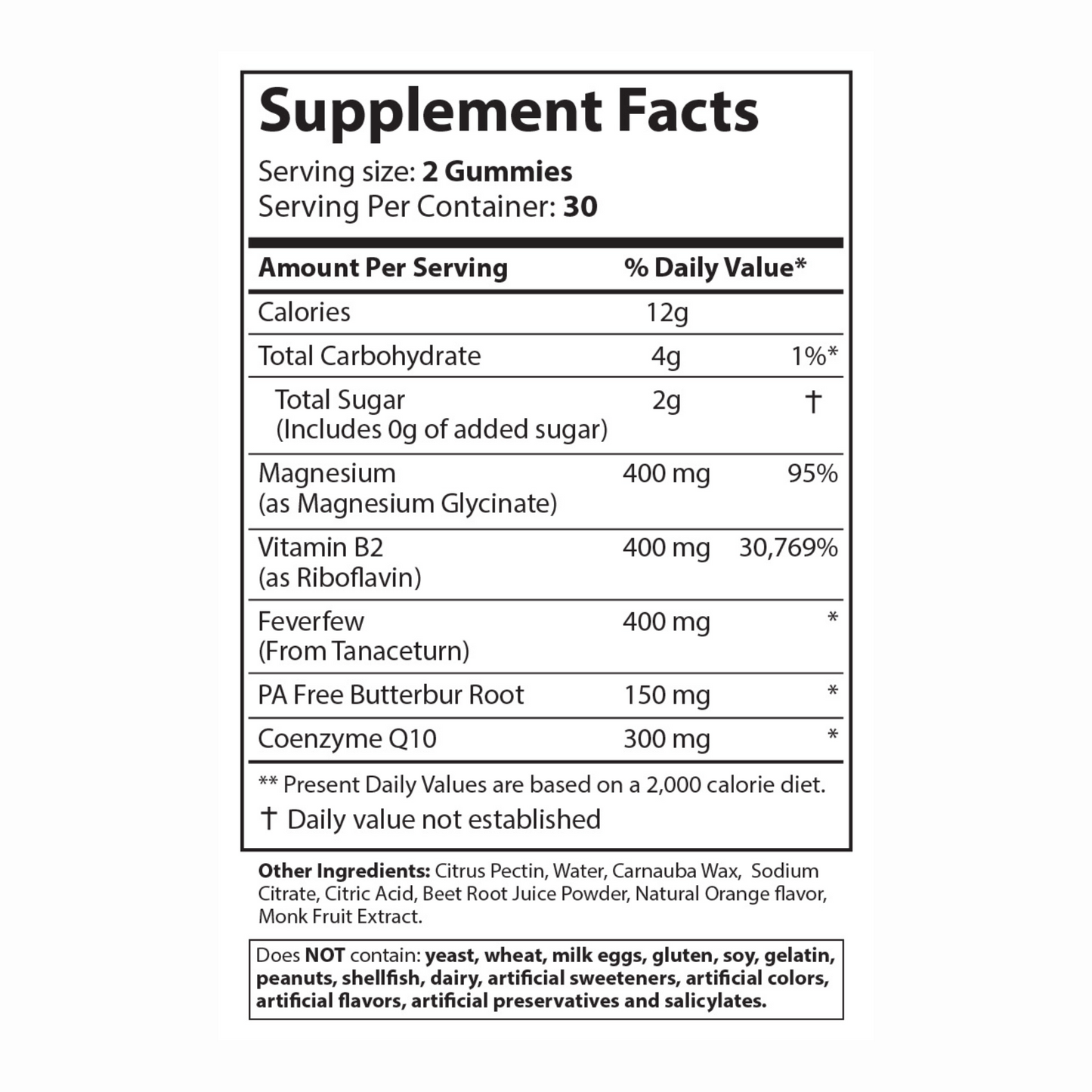 excellent
Very efficient and they really help
It's got all the right things in it
After searching for a long time for something containing all of these ingredients in all of these potencies, I was very happy to find this gummy for such a good price, it's been struggling with migraines for years and I'm hoping the sun will start helping with the intensity and severity soon.
Easy to take.
Haven't had results yet but supposedly it can take 4 to 6 months.
Your Migraine Defense Dream Team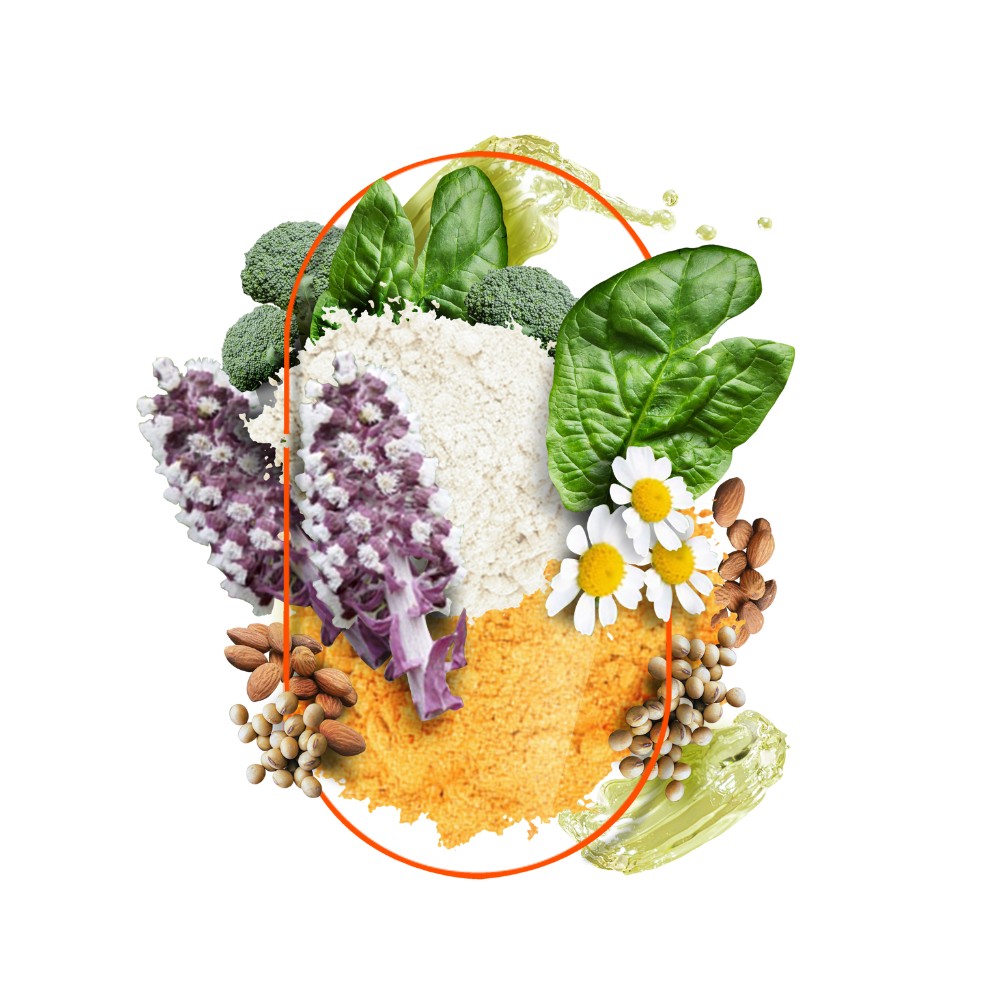 ✔️ Magnesium Glycinate to reduce inflammation.
✔️ Vitamin B2 to widen blood vessels and reduce oxidative stress.
✔️ CoQ10 to boost cellular energy levels, reduce the intensity and frequency of migraines and headaches, decrease muscle tension and fatigue, and knock out nausea.
✔️ Butterbur to inhibit certain inflammatory compounds and widen blood vessels.
✔️ Feverfew to relieve spasms in
smooth muscle tissue.
What's Inside The Magic
Butterbur

Native to Japan and China, butterbur has been used for many years as a pain reliever. Studies show that butterbur extract helps reduce the intensity and frequency of different types of migraines including vestibular and ocular migraines and different types of headaches including, cluster headaches. It works by inhibiting certain inflammatory compounds and widening blood vessels, which are believed to play a role in migraine pain. Taking butterbur regularly can provide long-term relief from migraines, making it truly an amazing natural remedy!

CoQ10

CoQ10 is proven to be effective in reducing headache intensity and frequency and decreasing muscle tension and fatigue. It can also help reduce the intensity of nausea associated with some migraine attacks by boosting cellular energy production. Thanks to its antioxidant properties, CoQ10 also protects your cells from oxidative damage caused by inflammation, which can trigger painful migraine symptoms. So if you're looking for a natural way to ease migraine pain and suffering, don't forget about CoQ10.

Feverfew

Originally native to central and southern Europe, this citrus-scented root now grows all over the US. Feverfew helps migraines by relieving spasms in smooth muscle tissue, easing pain and relaxing muscles. Studies show that daily consumption of feverfew can help reduce the number of migraine attacks you experience, and lessen their duration and severity, too. It may be just the thing you need to get relief!

Magnesium Glycinate

Magnesium glycinate is a migraine-busting powerhouse, working to both prevent and treat these terrors. This essential mineral reduces inflammation to help with the most common types of migraines and tension headaches—and research shows that it also decreases your chances of experiencing premenstrual migraine. In fact, magnesium deficiency is associated with an increased risk of migraine. Even the best magnesium gummies lack the other critical ingredients to help with migraines so we use magnesium glycinate because it's more bioavailable than other forms of the mineral, so it's easier to absorb. Nothing but the best for your body!

Vitamin B2

Also known as riboflavin, Vitamin B2 promotes overall good health for your body. B2 attacks migraines by reducing oxidative stress and opening your vessels for better blood flow. Studies show that a daily dose of 400 mg of riboflavin, the exact amount in two The Migraine Gummys, can help reduce migraine headaches and the symptoms that accompany them.
What Our Customers Are Saying 🙌
I have chronic migraines and saw these on Amazon. I was tired of buying 5 different pills to get my Vitamin B2, CoQ10, Magnesium, Feverfew and Butterbur. Thank god these were created because now I can get all my migraine supplements in one pill and there isn't an intense bitter aftertaste! ⭐️⭐️⭐️⭐️⭐️
I came across Migraine Magic when I google "migraine relief" and their ad popped up. I didn't want to buy these on Amazon because #smallbusiness but on a whim I said what the hell and gave them a shot. It's been two week and I haven't had a headache or migraine 🤯
I used to take Cove Beam and the after taste was incredibly rough, holy hell thank you Alafia Naturals for making these because they deliver the same amount of active ingredients with no bitter after taste.
Five freaking stars! I HATE taking pills for my headaches, popping two of these with a glass of water is a breeze! Also your pee will turn bright yellow or neon yellow because of the Vitamin B2 so watch out for that! I thought I was peeing Mountain Dew!
I thought these would be all hype. I gave them a shot because of the free shipping. I'm a believer. I'm kissing 😘 my migraines good bye
Migraine F'n Magic is F'n MAGIC! ✨✨
Ok so these do take a few weeks to work but when they do, they do. Your urine will change color to a bright yellow, this is because of the B2. That is how I knew it was working. I followed the directions, took the gummies with water for two weeks and haven't had a headache in a few days.
I'm giving these 4 stars, maybe 4 and a half - I wish the gummies were a little sweeter. Like others have said, they do not have a bitter aftertaste but they are not sweet like candy.
These taste fine & are loaded with great stuff for treating migraines. The orange flavor is mild. The texture is pretty nice, too.
I've only had it a few days, but it's working great so far (change in color of pee), I can't say enough good things about it.
These are ok, they do have great ingredients for treating migraines such as Feverfew (or wild chamomile), butterbur, which can reduce the frequency of migraines, I frequently suffer from headaches, and since I have been taking them daily so far no painful headaches, so I think there may be something to these gummies for preventing headaches. The gummies taste ok and have a tolerable orange flavor, the gummies are easy to chew and not sticky, the serving size is 2 gummies daily and have no sugar and are just 12 calories, they provide 400 mg of magnesium, 400 mg vitamin b2, 400 mg feverfew, 150 mg PA-Free-Butterbur root, and 300 mg of Coenzyme Q10, I like that these are naturally flavored plant based, contain no artificial ingredients, and have the cruelty-free logo. Overall I like them, nice natural non-gmo plant based ingredients, nothing artificial, good taste, easy to chew and digest, contains 60 gummies a 30-day supply. - *From Amazon
WORKS! Lifelong migraine sufferer Before you read the other reviews, keep this in mind: IT IS NOT AN IMMEDIATE FIX! It is a more natural and homeopathic approach and thus takes time to take effect. This isn't an instant fix but an added supplemental part of an overall multifaceted approach to dealing with migraines. We all want that one magic pill, and as someone who has tried EVERYTHING the past 15 years, these are my preference to other vitamin/herbal meds for migraine. I've done Preventa Migraine, My Brain, etc. I like these because of the breakdown of supplements used and the amount in each. Please Alafia, don't stop making these! (Amazon Review) ⭐️⭐️⭐️⭐️⭐️
The gummy flavor and texture is very good, but even better is that I have not suffered from a tension headache since I started taking. Highly recommend and intend to keep a bottle in stock! - Mux (From Amazon)
I have been struggling with migraines being a runner and always using electronic devices for work and other supplements that never worked. I tried to cut coffee because of anxiety, but caffeine withdrawals also worsened by constant migraine. After research, I found these and decided to give it a shot. I am so glad that I did, because after a week of using them, I am noticeably lighter and have also been sleeping well. My productivity and mood has improved significantly. I will order Migraine Magic again! - Yong (Amazon Review)
Totally recommend these if you suffer from migraines and take Excedrin all day. When I say these taste like snacks, I mean it. Do not leave a child around these because they're so delicious and they will be gone. Also this one has the good type of Mg (Magnesium) and not oxide (which is essentially a laxative). Kev E. (Amazon Review)
I suffer from migraines a lot, so I decided to give this herbal supplement a try. I liked the citrus taste of this product. If taken continuously, this supplement works well in migraine prevention. It is not a medicine to stop the migraine attack once it has started. Since I started taking this product, the number of my migraines decreased. Overall I liked this product, and I will be getting a second bottle for sure! - J. Bauer (Amazon Review)
Good flavor, great value This is the migraine supplement I have been looking for 4 years. It contains the 5 most evidence-based vitamin/herbal migraine treatments AND at the doses that have been studied or recommended. The form of magnesium in it is the one that I think is most suited for migraine treatments (based on online research). It is so hard to find each of these substances individually at the right dose without taking 5 pills each and paying $20 each. And all I have to do is chew two gummies (that taste pretty good) and the price is right?? I've noticed some reviews complaining that it doesn't take their migraine away. It is NOT intended to take away a migraine. You are supposed to take this every day and it is intended to reduce the number of migraines you have per month or it to reduce the severity of migraines you have. Will update later with results. (Amazon Review)
Seems to work My wife is prone to migraines, so she decided to give these a try. They seem to have worked- She has had fewer and less severe headaches since going on them. Remember, it's going to take some time (probably weeks) before you see a change, so don't give up too fast. The gummy makes them easy to take. (Amazon Review)
I've suffered with chronic migraine and chronic daily headache for about 13 years. Through this, I've tried basically every medication and treatment with little to no success. Migraine magic has been the only thing (aside from the way too pricy to maintain Botox) to reduce my migraine days, and lessen daily headaches!!! If you are on the fence, definitely take the leap and try Migraine Magic!!! - Julie (Amazon Review)
I just received it and it is magic because it works! I was pleasantly surprised as many things never help my migraines. First dose helped alleviate my headache within 30 minutes. Thanks for a great product. - Sunshine2 (Amazon Review)
I am a lifelong hereditary ocular migraine sufferer and sadly it was passed on to both of my children. My children started getting migraines before the age of three. It is heartbreaking to have a young child throwing up because of terrible headaches. The neurologist for my children recommended the ingredients of Magnesium, Riboflavin and Q10. I presented other brands that had some of the supplements, if not all, but the Dr. was unhappy with the MG amount of product contained in them. Then I found Alafia Naturals and the Neurologist was very happy with the MG per supplement and we have all been using the product for 6 months now. The product does help in reducing the severity and occurrences of the migraine attacks. We will continue using the Alafia Naturals and are satisfied with the results. - Terry B. (Amazon Review)
Frequently Asked Questions
1. Is The Migraine Gummy a rescue drug/medication?
A. NO! The Migraine Gummy is not a rescue medication/drug. The Migraine Gummy is nutritional support for migraine and headache sufferers. You will likely feel some difference after roughly two weeks of
daily use. In that time you should start to notice fewer headaches or migraines or that your
headaches or migraines are less severe.
2. Is The Migraine Gummy vegan?
A. Yes, The Migraine Gummy is 100% vegan and does not contain any animal products
3. Is The Migraine Gummy third-party tested?
A. Absolutely, The Migraine Gummy is independently third-party tested in Utah.
4. How is there no added sugar in The Migraine Gummy?
A. We make The Migraine Gummy with monk fruit, we tested other sugar-free options but ultimately
decided that monk fruit was the best option as it is plant-based.

5. How many bottles of The Migraine Gummy should I order?
A. The Migraine Gummy users have reported seeing a difference within 1 to 2 weeks when used daily.
We recommend stocking up on a minimum of 2 bottles, however, many of our customers get 3
bottles to see enhanced benefits over time and to take advantage of the bundled discount
pricing.
6. How long before I start to feel the Magic?
A. The Migraine Gummy users have reported seeing a difference in as soon as a week, however,
other users have reported seeing a difference closer to two weeks when taken daily as
instructed.
7. How do I take The Migraine Gummy?
A. We recommend taking two gummies with a glass of water with or without food, however, if
your stomach is easily irritated we suggest taking The Migraine Gummy with food.
8. How are the pyrrolizidine alkaloids (PA) removed from the butterbur in The Migraine Gummy?
A. The Migraine Gummy contains butterbur prepared via a proprietary process that ensures it contains no pyrrolizidine alkaloids (PA), which can be damaging to the liver. The Migraine Gummy is third-party tested so you always know what's in each bottle.